Anarchists and the Elections
Akai47, Nie, 2007-10-21 11:18
English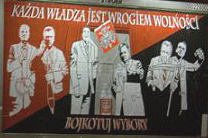 Poland: Anarchists boycott elections. Problems of the anti-election campaign and an explanation of the candidates and issues.
Today, Oct. 21, early elections will be held in Poland. The decision to hold snap elections was made after the minority government lost its coalition partners and its failure to work together with any other party became apparent. There had been talk of possible early elections way before they were announced, so anarchists prepared a couple of boycott posters.
The anarchist campaign against elections is already well-known in Poland as it has been going on for many years. It is often mentioned in the mainstream media, especially acts of altering campaign billboards. For example this year political marketing analysts who were commenting on the effectiveness of different billboard campaigns showed one particular billboard on TV. The social democrats, who had sent troops to Iraq and Afganistan, had a slogan "Smart government without stupid wars". The "stupid wars" referred to the bitter fighting going on in the government. Anarchists added on to the billboard 'except our stupid wars in Iraq and Afganistan". The experts congratulated the anarchists and warned politicians that their slogans had to be "anarchist proof". So anarchists reminded the left voters again about the militaristic, pro-US habits of that party.
A good example of an anarchist billboard can be seen here:
http://cia.bzzz.net/akcja_bilbordowa This billboard went up in the center of Warsaw just before the elections and says that "every authority is the enemy of freedom – boycott the elections". It shows the leaders of all the parties in government, although for some reason it doesn't show the leader of the social democrats, put has the ex-president, ideological leader of that party, instead. In other cities, anarchists put up posters, made newspapers or leaflets and generally agitated against elections. In the city of Opole, there was an internet poll about the boycott campaign asking people what they thought. Although a majority (55%) were against, 30% were sympathetic to it and 15% supported it.
Many, if not most, people would agree that all politicians are shit. But does that mean they support the election boycott?

We always say that anarchists win every election, because usually more people boycott than vote for the winning candidates, but in reality we know that not every person who doesn't vote has conscientiously boycotted. However, we are sure that many of them are so sick of the political game or see no difference between the parties that they just don't vote. That isn't enough though and this is something that we point out every time in the campaign – instead of governments and representative democracy, what is it that we really propose.
Some people of course find it "unrealistic", other "a nice idea – but unrealistic". Others are at least interested. During meetings with random citizens, for example during street actions, one has a chance to interact with people and see their reactions. Not all street actions are 100% serious – some are done with humour. In Poznan, anarchists with banners asking "do you see any difference" cut out holes in the banners where the stuck their asses. The photo is here: http://cia.bzzz.net/poznan_akcja_na_rzecz_bojkotu_wyborow In Warsaw, anarchists tried to auction off used politicians and held a duel between the two leading candidates in which they both cheated and shot each other dead. Photos are here: http://cia.bzzz.net/warszawa_bojkot_wyborow During such humourous actions, lots of people want to take leaflets or papers or hang around and hear what it's all about.
That doesn't mean that everybody likes the boycott campaign; the worst reactions are from politicians but also left and right wing activists. We understand that the left wing activists are particularly concerned. On the leading left portal, which has turned into a mouthpiece for left parties, they held two internet polls – one for the country and one for Warsaw and, although they were up for about 2 weeks each and a few thousand people voted, they "disappeared" the results, contrary to their normal practice of writing a piece on it. Probably this is because the leftists indicated that the most popular party for them was still the social democrats, former ruling party. The number two position in both polls turned out to be boycott. The favourite of many of the editors did not do too well which apparently cause them great anxiety.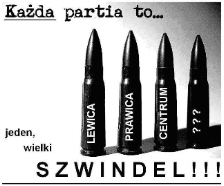 (On the poster: Every party is just one big swindel.)
So we could witness, at least in Warsaw, an increased effort on behalf of the parties to get people to vote. Usually, these people used the same stale illogical arguments. Worst yet, there was a strong mood that the current government has to be "voted out". For that reason, some argued that it only made sense to vote for one of the two "strong parties", because the ruling Law and Justice Party should be replaced.
We agree that Law and Justice stinks. In particular, we dislike their social conservatism and their repression; in the past year, an unbelievable amount of people have been sentenced for "crimes" like "insulting the president". However, the other main right-wing party is also conservative and in terms of economics and work conditions they are sure to be much worse. The liberal community in Poland seem to be either oblivious to this, or rather strongly pro-capitalist. For us there is no real difference – the problems we will face will just be different ones.
The low point of the elections for us is that it revealed in the anarchist movement increasing tendencies to left reformism and liberalism. Previously the strongest voters were amongst anarcha-feminists who were convinced they had to vote against Kaczynski in the last elections. This year we saw more voters or more people with hypocritical positions. Some groups did not want to sign anti-election posters this year. Some individuals in Workers Initiative or CKLA called on people not to criticize the Labour Party because they cooperate or get money from them. Others just tried to avoid the election topic. In discussions it came out that some people are not against the government or actually want to have some leftist government. This is something rather new and quite amazing for some as Poland is a good example of how "leftist governments" can actually work: participating in wars, destroying the Labour Code, sending the police out to beat strikers, etc. Apparently some new illusions have settled in the heads of a very small but vocal group of anarchists.
During the street action in Warsaw, a journalist from Il Manifesto interviewed a colleague from FA Praga. In this and in other conversations with casual foreign observers, it turned out that many have heard of the evil Kaczynski twins, but few have any idea about the others on the political scene, so, just for the elections, let's have a look at the main parties and some of their politicians. The Labour Party and Women's Party are include here in this description.

LAW AND JUSTICE: Party led by the Kaczynski twins. Main areas of concern: anti-communism, a strong Polish state, fighting with criminals. Slightly pro-social policies. Socially conservative. The Kaczynski's hate Russia and find it outrageous that a Polish president would even meet with Putin. They want to take a leading role in Ukraine and Lithuania and have some pseudo-imperial ambitions. Pro-American. They hate "elites" and have been taking measures to fight with journalists, doctors and lawyers. The are obsessed with punishing people. On the other hand, they have a strong labour minister and have improved the state labour inspectorate and have started to crack down more on unfair labour practices. Besides the Kaczynskis, leading figures include Justice Minister Zbigniew Ziobro, bad lawyer who failed his lawyers' exam a few times and is out to get retribution against all other lawyers. He introduced some new legislation and draft bills which were total disasters from the legal point of view, showing most of his peers that he not competent enough. Still, he is respected by the frustrated since he conducts many arrests and talks about getting the bad guys. Another famous member of PiS, Michal Kaminski, who flew to Pinochet to give him gifts of the eve of his extradiction, Ludwik "the Bloody" Dorn, who wanted to arrest striking doctors and Przemyslaw Gosiewski, who is most famous for arranging for Warsaw-Krakow express trains to make one stop on the route – in his hometown, a backwater with 10,000 people population.
The party had a coalition but openly double-crossed their coalition partners, trying to lure MPs from other parties to it with offers of posts and jobs for relatives. They also tried to entrap the Minister of Agriculture, leader of the Self-Defense Party using a complicated sting operation. Have admitted to invigilating members of other parties and the press. Have been known to fire journalists from public TV for even presenting news about the competitor party and have even put force on private TV stations to fire a popular TV host critical of the party.

(Billboard improvement: Together - against you.)
CIVIC PLATFORM – The party of heartless yuppie scum, led by Donald Tusk. The main point of their program revolves around the introduction of a flat rate for personal income tax and creating conditions and investment projects favourable for investors. Is run in an autocratic way; some of the leading figures of the party have left. Socially conservative. Some members of the party were caught benefitting financially from some public projects. They present themselves as a "normal" right-wing party, as opposed to the exaggerated repressive stance of Law and Justice. But in fact, the element that distinguishes them from the ruling party is that Law and Justice see the role of the state in "protecting" people and have put some checks on businesses. Civic Platform is completely ambivalent to labour and the poor and, if anything, they only figure in their politics as the eventual recipients of some trickle-down effect after the investors have created their capitalist heaven.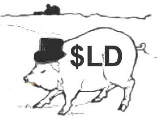 LID – Left and Democrats. A coaltion of the former ruling SLD, Social Democracy Poland (which left the SLD due to corruption scandals) and the Democratic Party, a strange combination of former right-wing Freedom Union members, people from the association of private employers and a few assorted market-oriented former social democrats. The SLD is famous for liberalizing the labour code and lowering taxes for businesses (to encourage employment), sending troops to Afganistan and Irak, having secret CIA prisons in Poland, and repressing all sorts of strikes and protests. The SLD is led by Wojciech Olejniczak, although recently they stuck former president Kwasniewski back as its figurehead and pushed Olejniczak into the background of the campaign. Another leading figure, Ryszard Kalisz was former repressive minister of internal affairs. Social Democracy Poland is led by hypocrite Borowski who left because he pretended to be shocked by corruption. Is most famous for introducing laws against demonstrators. Helped get rid of only openly gay MP from SLD because he (correctly) protested against his anti-gay politics. The Democratic Party is most famous for its members' connection with private entrepeneurs and pro-NATO stance. It's leader was former Minister of Defense and several of its members negotiated Poland's entry into NATO. Although some members of LID are socially liberal, many of its leaders try to appear more conservative to appeal to the center. SLD famously promised to legalize abortion but later agreed with the church to drop the issue in return for them staying quiet on the issue of EU accession.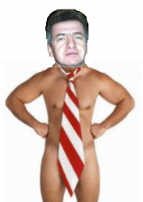 (Cartoon of Ikonowicz, "comrade" to some.)
SAMOOBRONA (SELF-DEFENCE) – Formerly the third force in parliament, currently the fourth, Self-Defence is a chameoleon party. It is rather populist, calling for social protectionism on the one hand (often categorized as "left" economists) and social conservatism on the other. The party came to power through exploiting farmers protests. Although it claimed to represent the poor farmer, the party was dominated with millionaires and wealthy farmers, with a few exceptions. Thus, when Self-Defence finally got more and more power, its electorate abandoned it as it saw that it did little to help it and that the politicians were transformed themselves from redneck style to expensive suits. Andrzej Lepper, its leader, is known for changing his image and attitude very often. Among recent scandals was Lepper's defense of a party member arrested in Brussels for raping a prostitute, saying "How can you even rape a prostitute?" and his defense of Stanislaw Lyzwinski, local party chief currently in jail for sexual misconduct in relation to employees in which he accused a woman who is a single mother of being a person with low morals, since she had children out of wedlock. Despite this gross sex scandal in which many members of Self-Defence were implicated but not prosecuted, self-styled leader of the left, former MP Ikonowicz from the New Left Party and Workers' Initiative, is leading the list in these elections in the capital. He claims that Lepper is not a sexist. Ikonowicz is often accompanied by Self-Defence MP and spokesman Mateusz Piskorski, former editor of the neo-nazi "Odala". Self-Defence is trying to make itself over as a "left" party now and also has invited former PM Leszek Miller as a candidate. Self Defense went to protest the American anti-missile shield in Poland with Miller – one of the main people who lobbied for its installation as PM.
PSL – The Polish Peasant's Party, also known as the Polish People's Party in some English translatios. An old party (founded in 1918) with a long history dating back to the 19th century, led by former PM Pawlak. PSL can be described as centrist or center-right. It's most recent political line has been "stay out of conflicts" and by staying somewhat in the background during all the recent turbulations, it managed not only to survive to be gain popularity with an image of being the only party that's not fighting. It is trying to modernize its image and its list in Warsaw is led by Foltyn, the "Polish Bill Gates" inventor of a popular communicator. In reality, their program is unpredictable and not very precise and they probably can be influenced in different directions. This is the party most often talked about as "potential coalition partner" because it is expected that if it goes into a coalition, it will dutifully follow the stronger party's line.
LPR – League of Polish Families. This election they are running together with the far-right groups, "the Right of the Republic of Poland" and "Union of Real Politics". Led by Roman Giertych, fan of Franco and Salazar, arch social conservative. Many from the LPR come from skinhead, fascist and ultra-nationalist backgrounds. They've been known to publically attack feminists and gays. The Union of Real Politics is a scary addition to the scene. Led by Korwin-Mikke, they combine libertarian capitalism for extreme-right social views and anti-semitism. Recently released an anti-war campaign ad about Iraq which also showed president Kaczynski in Jerusalem. This party has to spend a lot of time explaining why people shouldn't see them as antisemities or as fascists.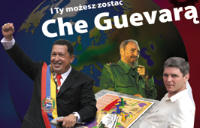 ( Boguslaw Zietek, leader of the party, is trying to build a cult of personality around himself. From his web pages.)
POLISH LABOUR PARTY – Managed to register a nationwide list, although for the second election in a row, it turns out that they filled some lists with people who didn't even know they were on them, causing the electoral commission to drop them from one list. This party has formed on the basis of "the Alternative Labour Party" which in 2001 was in a coalition with the fascist National Polish Rebirth. Although its leader is a leftist who supports Chavez and Castro, its vicepresident and party chief are former members of parliament from the far-right and the party membership contains right-wing members, left-wing members and frauds. This year the party decided to con people by finding candidates with the same last names as leading candidates of politicians in different cities and put them at the top of lists, hoping to capitalize of some voter error. Thus the leader of the Warsaw list is a mechanic/business man from Silesia called Borowski who never even bothered to appear in Warsaw and campaign – a total fraud. Despite the presence of right-wingers, the party managed to create a patriotic left program which seems acceptable to many leftists and all the Trotsykist entrists flocked there. The Party supports the Stalinist Communist Party of Poland and a think tank devoted to returning to the economic program of the Gierek era. The Labour Party is mostly bolstered by the fact that the heads of the Party are also the authoritarian heads of the August 80 trade union and have almost unlimited decision making powers in the union. They also can use union funds at their discretition and have been known to appear everywhere with pockets full of cash and offers of help, financed by the union – that is the workers. Used the IWA logo for the banner of their paper but stopped after some protests. Used it again for election material but slightly modified, with red and black flag.
WOMEN'S PARTY – Created and led by Manuela Gretkowska, the writer. The women's party is practically non-existant on the political scene but will be supported by some leftists who don't like the Labour Party, including some feminists. It has several stated goals which would be beneficial to working women but lacks an overall political program and has not formulated an economic outlook. It markets itself as more humanistic and caring than the other parties. Some of its postulates include including contraception on the list of refunded medicine, having sex education in schools, equalizing wages between men and women and carrying out "real pro-family" policies – but without any specifics about what that means. Economically the people are probably liberal capitalists but we can only guess because they have only presented a few narrow postulates.